04/28/16
Girls' and Boys' Day at LIEDTKE'S
Students visited our company at national 'Girls' and Boys' Day'.
Today 8 students under the age of 15 came to visit our company and to learn something about our jobs.
The 'Girls' and Boys' Day' is an organization for students to find out what their future might look like. It is a chance to work in differnent and perhaps gender-unspecific jobs one day long.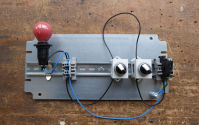 We created multisided work assignments for our visitors, so they were learning by doing. At the end of the day every student had to light an electric bulb by themselfs.
They did great jobs.
We are hoping for more days like these, where adolescent snuffle into the world of work.