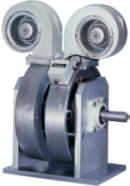 Double magnetic particle brake
Option: radial ventilation
* without radial separate ventilation
Option:
Radial seperate ventilation
The air ring is ready mounted with radial fan, motor with thermo-contact (self-switching), protective grid, operating condenser and terminal box.
Main voltage: 230 VAC/50 Hz.
This disipation of the power loss into heat at the magnetic particle brake is limited due to the size of the housing of the brake.
By utilising the radial external fan the heat dissipation will be increased.
Please
contact
our staff for more information.