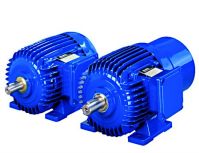 AC winding drives
torques from 1 - 260 Nm
size IEC 63 - IEC 132
protection class IP 54 / IP21S
insulation class "F" DIN / VDE 0530
An AC winder is an induction machine that is able to be operated in continious slip mode troughout the entire speed range (0 to rated speed) by means of a special rotor. The speed is dependent on the load. During operation, he drive speed results from the current winding diameter and speed of the goods, and is indicated by the characteristic curve.
The speed is preselected by means either electronic AC voltage regulators (referred to above) or three-phase induction regulators. The drive can be used as a central winder, contact winder or a supporting drive, and is available with or without the gears prefitted.
AC winder info, common
PDF (235 KB)
Table data AC winder
PDF (102 KB)
AC winders can be controlled stop with
the brake unit B270 and the AC voltage regulator W3405/W3412.1.