Force measuring systems
Our force measuring systems are used to measure and control tensile forces in flexible material webs for a vast range of materials, such as plastic sheets, metal, paper, textiles.

Process engineering requires tensile forces in continious webs to be measured. This must be carried out without any displacement in order to ensure that the web lead does not change. The electrical output signal serves as an indication of the tensile force while at the same time exerting a control effect on the drive system.
The process of measuring tensile forces has proven a reliable method of controlling winders and unwinders (as well as twin and unwinding stations with automatic cutting and locatin systems).
In addition to this, tensile force measurements are used to control drive systems in environments including dry or humid areas and cooling zones - in other words, any location in which linear deformations in webs may arise as a result of web processing.
Product information
PDF (106 KB)
Measuring pivot MLZ
foot design

flange design

mounting aid


for flange or foot design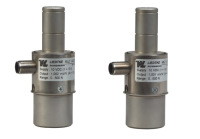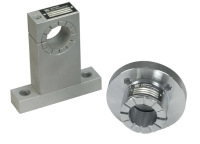 Measuring rolls / Tensile force measuring stations
Tensile force measuring stations with integrated measuring rolls
Independent installation position
Type G2.1.20/500 double-sided measurement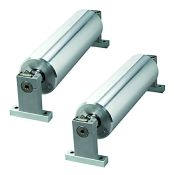 Product information
PDF (18 KB)
Tensile force measuring stations
Type KM ... G2 one-sided measurement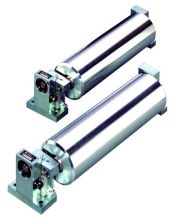 Product information
PDF (133 KB)
Tensile force measuring stations
Type KM ... G3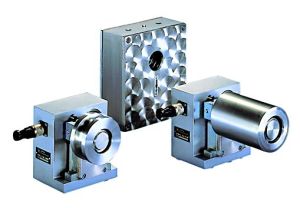 Product information
PDF (97 KB)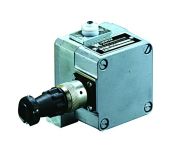 Load cell KM
These are used wherever forces or loads are required for display or feedback of the actual value into closed-loop systems.
The load cell is a measuring transducer and serves to capture and measure pressure forces to 2000 N. The pressure force has to act vertically on the measuring sensor. he measuring chain consists of the load cell, a compact mechanical component with low dimensions, safe overload protection, jumper connections and high sensivity as well as an electroni measuring amplifier. The load cell can be installed in any position and is therefor suited for multipurpose applications. The force measuring is based on the transformation of the mechanical measured quantity via strain gauges - full-bridge circuit into a proportional electrical output signal.
Tension measurement of profiles KF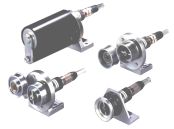 Tension measurement of profiles in the sensible area of tensile forces
The tension measurement works without any displacement via strain gauges. Due to its compact structure, the tension sensor can be easily retrofitted. The adjustment is made during the installation. If there is no additional guide pulley present, the system can be delivered with an integrated guide pulley in order to determine the resulting measuring force.
The tension measurement is executed before a winding or unwinding procedure as well as everywhere, where the tension force has to be measured in running webs or has to led a signal into control loop.
For download product information click
here
and for suitable measuring amplifiers click
here
.