Torque limiter
For measuring the load in the test bench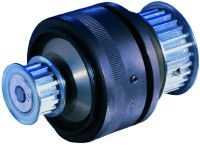 Torque limiters/overload safety clutches with permanet magnets are used for mechanical overload protection; with the exception of a permanently set torque, it is possible to set intermediate values using the setting ring or gap.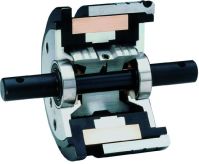 Torque limiter cross section
The torque limiter consists of two rotors that are run independently from one another. The external rotor contains one or more permanent magnets that are distributed across its circumferences. A non-oxidising magnetic powder is located between the rotors; this is used to connect the rotors according to the lines of force of the magnetic field.
The torque limiter can be operated in any position.
Mounting must be carried out using non-magnetic metal.
Applications:
Protection and safeguarding o the transmission lines
Permanent braking
Limitation of torque for transmission
Load protection
Load balancing
* = mass inertia moment
Download product information
PDF (75 KB)