Winding drives
Winding with DC and AC motors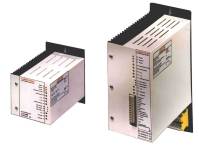 Most of the flexible web-type products in running production, processing or stock may be stored in a winder coil.
performance range from 0.5 - 200 kW
electronically regulated
programmable
adjustable winding characteristic
"F" constant - "Md" constant
For the winding the most different winding methods are applied.
unwinding and rewinding
central winding
via dancer or floating roller
through tension measurement
by contact-winding
speed-determining winding
with adjustable winding characteristic
For the correct design of a winding drive is the following operating data necessary:
kind of material (type, thickness, width)
line speed V : (m/min)
tension force F : (N)
sleeve diameter d : (mm)
max. roll diameter D : (mm)
operating voltage/frequency U/f : (V/Hz)
required motor design and protection class
Winding drives
PDF (199 KB)
Calculation of winding drives
PDF (198 KB)
Please
contact
us for helping you to select and calculate the winding drive being suitable for your purposes.